BELIEVE IT OR NOT, I CAN ACTUALLY DRAW
Jean-Michel Basquiat (December 22, 1960 – August 12, 1988) was an American artist. His career in art began as a graffiti artist in New York City in the late 1970s, and in the 1980s produced Neo-expressionist painting. Basquiat died of a heroin overdose on August 12, 1988, at the age of 27.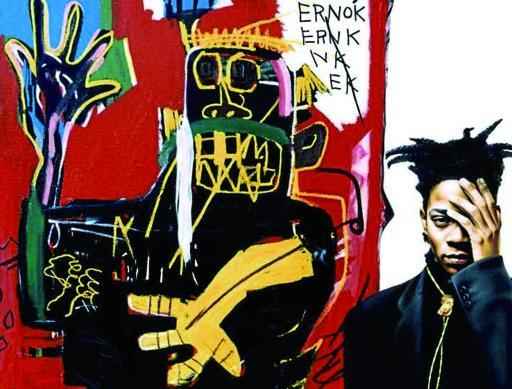 In 1976, Basquiat and friends Al Diaz and Shannon Dawson began spray-painting
graffiti
on buildings in
Lower Manhattan
, working under the pseudonym
SAMO
. The designs featured inscribed messages such as "Plush safe he think.. SAMO" and "SAMO as an escape clause." On December 11, 1978, the
Village Voice
published an article about the graffiti.
[

12

]
The SAMO project ended with the epitaph "SAMO IS DEAD," inscribed on the walls of
SoHo
buildings in 1979.
[
13
]
In 1979, Basquiat appeared on the live public-access cable show TV Party hosted by Glenn O'Brien, and the two started a friendship. Basquiat made regular appearances on the show over the next few years. That same year, Basquiat formed the noise rock band Gray with Vincent Gallo, Shannon Dawson, Michael Holman, Nick Taylor and Wayne Clifford. Gray performed at nightclubs such as Max's Kansas City, CBGB, Hurrah, and the Mudd Club. In 1980, Basquiat starred in the O'Brien's independent film Downtown 81, originally titled New York Beat. That same year, O'Brien introduced Basquiat to Andy Warhol, with whom he later collaborated. The film featured some of Gray's recordings on its soundtrack.

[

14

]

He also appeared in the Blondie music video "Rapture" as a nightclub disc jockey.
By 1986, Basquiat had left the Annina Nosei gallery, and was showing in the famous
Mary Boone
gallery in SoHo. On February 10, 1986, he appeared on the cover of
The New York Times Magazine
in a feature entitled "New Art, New Money: The Marketing of an American Artist".
[

18

]
He was a successful artist in this period, however his growing heroin addiction began to interfere with his personal relationships.
When Andy Warhol died on February 22, 1987, Basquiat became increasingly isolated, and his heroin addiction and depression grew more severe.

[

13

]

Despite an attempt at sobriety during a trip toMaui, Hawaii, Basquiat died on August 12, 1988, of a heroin overdose at his art studio in Great Jones Street in New York City's NoHo neighborhood. He was 27.

[

13

]

[

19

]